History
I thought you were Olympia Rugby? Why the name change?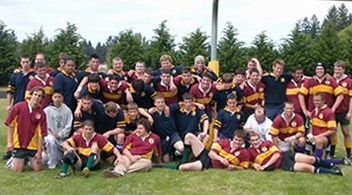 Well, it really all goes back to the launch of our U-19 team, the Capital Cougars.
In 2000, Mr. Matt Hudson approached his teammates of the Olympia Rugby Club and stated he wanted to start a U-19 team. The club was more then happy to help. Matt decided to call the team the Capital Cougars, the team name of his high school, Capital High School in Olympia. We would rather it be Olympia U-19, but hey, this was Matt's baby. We agreed, and the Capital Cougars Rugby Club was born.
We assumed that our U-19 team, much like all other teams, would struggle to get going, and to gain members. That was until Mr. Pete Sullivan agreed to coach the side. The numbers grew quickly thanks to great recruiting by Matt, and the town being blanketed with announcements by the Men's Side. We soon had kids from all of the city's high schools, as well as a few from Shelton.
It became an issue almost immediately. Kids from other high schools did not want to play for a rival school's team, even though there was no affiliation with the school.
So a few members of the Men's side sat down to address this issue. We quickly realized that changing the U-19's side to Olympia Rugby U-19 was not a great solution since there is an Olympia High School, and we would be facing the same problem. We brainstormed. It was tough and painful, but we did it.
And so, Budd Bay RFC was born, named after the stretch of Puget Sound that flows into Olympia.
A Little Club History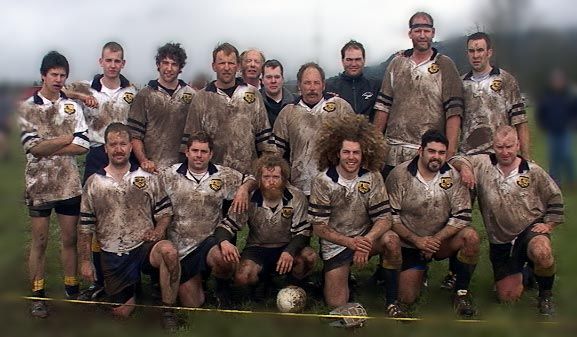 It all started during the fall of 1997, when a bunch of us started showing up at rugby practice at The Evergreen State College. Some of us were much older than the students, but that didn't seem to matter – we were playing rugby.
As we practiced and played with the "Greeners," a few more experienced players came out, and pretty soon we thought about forming a club free of the administrative bonds of the school. Under the tutelage of Evergreen coach Trevor Anderson, the Olympia Rugby Club was unofficially born.
Our first foray into playing as a club came at various seven-a-side tournaments during the summer. Playing some of the top clubs in the Pacific Northwest, we learned a lot about teamwork and our opponents, while finishing 4-10 in four events.
We entered the schedule for the Pacific Northwest Rugby Football Union Div. II 1998/1999 season with four other clubs, and we were in business.
What about the women?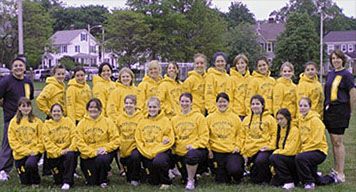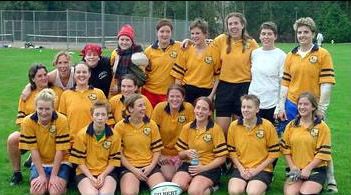 In 2002 a U-19 girls team was founded and led by by Alex Goff, a highly regarded rugby analyst. The Steelheads have grown over the years into a nationally ranked force. They have, in the past, been ranked as high as 6th in the nation, and in 2006 the Steelheads and the Barbarians sported the highest combined national ranking of any U19 rugby program with both a boys and a girls team. No other program had two teams ranked in the top 16 in the nation.
Budd Bay RFC gives back!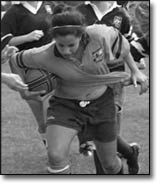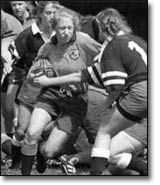 As a charitable organization, Budd Bay RFC prides itself on its community partnerships and continuing to advance youth rugby through various clinics and camps.
Organizations where Budd Bay Rugby has volunteered time to teach touch rugby: Boys & Girls Club, Girls Scouts of America, City of Olympia YMCA, Briggs Community YMCA, Summer and Winter Sports Camps VAC, Roosevelt Elementary School, City of Lacey
Other Community Activities: Adopt-a-Highway Program, Campaigning for City of Lacey Parks Funding and Initiatives, Friends of the Olympia Library, Thurston County Food Bank, Community Youth Services and provide donations and other support to the Hurricane Katrina and Haiti relief efforts.
A Brief Overview
Budd Bay Buffaloes – Men's Club, Division III
Established 1998
Normal playing membership: 25 players
Nationally ranked – 2009 (14th), 2010 (11th), 2014 (10th)
Pacific Northwest Division III Champions – 2009, 2010, 2011
Budd Bay Bandits – Women's Club, Division II
Established 2004
Normal playing membership: 20 players.
Nationally ranked – 2010 (8th)
Pacific Northwest Division II Champions – 2010
Budd Bay Barbarians – Boys U19, U16 and U14
Established 2000
Normal playing membership: 40 players
Five members selected to USA U19 team.
Two members play professionally in the MLR
One former member selected to the USA National team (USA Eagles)
Nationally ranked – 2000 (13th), 2001 (5th), 2005 (15th), 2006 (7th), 2011 (24th), 2015( 16th)
U19 PNW Championship appearance – 2000, 2001, 2003, 2005, 2006, 2007, 2008
U19 Pacific Northwest Division Champions – 2001, 2006, 2007
U17 Pacific Northwest Division Champions – 2009
RugbyWa U19 champions – 2011, 2014, 2015
RugbyWa U17 champions – 2012, 2013
Budd Bay Steelheads – Girls U19
Established 2002
Normal playing membership: 25 players
Four members selected to USA U19 team.
One member selected to Filipina Volcano's
One member selected Samoa's Manusina
One member selected to USA Eagles
Nationally ranked – 2004 (7th), 2006 (6th)
PNW semifinals or better – 2003, 2004, 2006, 2007, 2010
Pacific Coast Invitational Tournament Champions – 2010
Players of Note: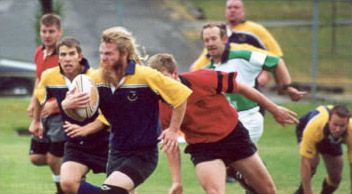 Scott LaValla – USA Eagles, Men's National Team
Skylar Pond, Pacific Coast Grizzlies men's senior all-star team
Megan Sanders, Pacific Coast Grizzlies women's senior all-star team
Trevor Anderson, Pacific Northwest Loggers men's senior all-star team
Jeff Macke, USA U19 boys 2001-2002
David Soles, USA U19 boys (2002)
Gavin Secker, USA U19 boys (2004-2005)
Eddie Haigh, USA All American national collegiate team (2005)
Scott Lavalla, USA U19 boys (2005, 2006, captain), USA U20 (captain, 2007), USA Eagles (2011-Current)
Kevin Erskine, USA U19 (2006), USA U20 (2007)
Taylor Briscoe, USA U17 (2008)
Tasi Tonuao, USA U17-19 2011-2013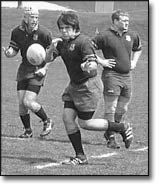 Lui SItama, MLR player current
Tommy Hunkin-Clark, MLR player current
Maggie Nelson, USA U19 girls (2003-2004, later captain of MIT)
Megan Thompson, USA U19s girls (2003-2006, vice captain)
Sonya Cifuentes-Hiss, USA U19 girls (2004)
Mitra Akhavan, USA U19 girls (2006)
Kelsey Stockert, USA Eagles 15's and 7's 2015-2021
Erica Mae, Filipina Volcano's current
Kayla Hunkin-Clark, Samoa's Manusina current